Matt Downing, 
Director of Tennis
Matt Downing is a native to the Pinehurst area. He attended Sandhill's Community College and was a player on the school's first Men's tennis team. After completing his studies at Sandhills, Matt started his tennis professional career at the Lawn & Tennis Club of N.C., where he spent four years. In 1995, he became Head Tennis Professional at Pinehurst Resort and Country Club. In his first eight years with Pinehurst, Matt was in charge of junior programming and assisted the Director of Tennis with club & resort activities. In 2003, he became the Director of Tennis and is responsible for all member and resort programming. In addition to managing the tennis operation, he also oversees pickleball, croquet, lawn bowls, and fitness center operations. He, along with the Pinehurst tennis staff, host events such as the USTA Men's National Clay Court Championships, USTA Boy's & Girl's Zonal Team Championships, the USTA Adult State League Championships, and various resort tennis events. Matt is a 24 year USPTA certified Professional, and holds PTR Professional distinctions in both 10 & under, and 11 to 17 tennis education. He enjoys teaching tennis more than ever and looks forward to growing and developing new and existing activities at the club.
Kevin Criscoe, 
Head Tennis Professional
Kevin Criscoe is a Moore County native. He received his Bachelor's degree in Business with concentration in Professional Tennis Management from Methodist University in 2004 where he also played varsity tennis. After beginning his career at Pinehurst as Head Tennis Professional in 2006, he went on to complete his Master's in Business Administration in 2009, also from Methodist University. Kevin completed the USTA High Performance Coaching program at Chris Evert Tennis Academy in Boca Rotan, Florida in 2013, earning him the distinction of Specialist in Competitive Player Development. He is a certified USPTA Elite Professional and has PTR Professional designations in 10 & under, 11 to 17, and Adult Development. He enjoys continuing to expand his skills and knowledge, most recently adding North Carolina Real Estate licensure to his list of accomplishments. Kevin's positive, upbeat attitude and energy have earned him a loyal following over his 12 years at Pinehurst Resort.
Carla McKenzie, Tennis Professional
Carla McKenzie is a graduate of Methodist University where she was a three time All-American, two time National Doubles Champion and still holds the school record for highest percentage of wins in doubles at 93.5%. She was ranked #1 in the country for three straight years with her doubles partner Elena Blanina. She was inducted into the Athletic Hall of Fame in 2010 as an individual and again in 2016 as a Team of Distinction. Carla majored in Physical Education and Professional Tennis Management as an undergraduate and has a Master's of Business Administration degree with a concentration in Golf, Tennis and Resort Management. Carla is a PTR Master Professional and Clinician and is certified by PTR with Professional standards in 10&U, 11-17, Adult, Senior and Performance development. She's a USPTA Elite Professional, Master Racquet Technician, certified Tennis Performance Trainer (TPT) and CPTS by the (International Tennis Performance Association), certified Mental Tough Specialist by the (Human Performance Institute), Licensed Cardio Tennis Provider, USTA Sport Science Level 1, and certified in CPR, First Aid and AED. Carla is Director of Tennis at Shore and Country Club in Connecticut during the summers and works part-time here at Pinehurst the rest of the year.
Steve Reyes, Tennis Professional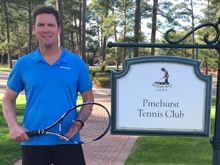 Steve Reyes began his career as a tennis professional in 1987 at the Forest Lake Country Club and later WildeWood Country Club both in Columbia, SC. During this time Steve was working on a Master's degree in Exercise Physiology at the University of South Carolina. As a graduate assistant at the University of SC Steve had opportunity to work with both the men and women's tennis teams. Steve obtained his Master's Degree in 1989. In 1990 Steve became Director of Tennis at Windmill Harbour Plantation on Hilton Head Is, SC. During his time in SC Steve was involved as a USTA Player Development Coach coaching South Carolina's top juniors. Steve was also a USTA Clinician in Exercise Science.In 1996 Steve answered the call to serve in the United States Army. Steve deployed 5 times in support of Operation Enduring Freedom and Operation Iraqi Freedom. After retiring from the military in 2014, Steve is again enjoying coaching and teaching tennis and joined Pinehurst in the Spring of 2017.