The longest consecutively running national amateur championship – the North & South Amateur at Pinehurst Resort – is still planning to play its 2020 championship season.
Invitations for the 2020 season of the North & South Amateur Championships at Pinehurst were sent to players in March, but applications to play are still open until May 19 for the men's amateur and until June 2 for the women's amateur.
The North & South Amateur (June 30-July 4, 2020) and the Women's North & South Amateur (July 14-18, 2020) are the two longest consecutively running national amateur championships in America, with the men's tournament having been played every year since 1901 and the women since 1903. The North & South tournament schedule also includes men's and women's senior and super senior championships as well as boys' and girls' junior tournaments.
All events will practice proper protocols and follow CDC guidelines to ensure players' safety.
For a full listing of the North & South events, please go here. To contact Tournament Director Brian Fahey with any questions or concerns about safety, please email him at Tournaments@pinehurst.com.
The invitations were sent on the heels of Pinehurst No. 2 and No. 4 serving as the site of the 2019 U.S. Amateur, won by Georgia Tech's Andy Ogletree in stirring fashion. Many of the players who advanced throughout the match play portion of the championship received invitations to return to Pinehurst for the North & South this summer.
Players are also still encouraged to apply for consideration to make the Amateurs' respective fields. Tournament details for each championship can be found here, and players can find entry applications and their associated deadlines on the championships' respective pages.
This year will also mark the return of a logo for the North & South Amateur. With a history dating back almost 120 years, the North & South Amateur at Pinehurst Resort remains one of the most storied, iconic and cherished championships in golf. And the new tournament logo for 2020 has been crafted to reflect this heritage.
Recognizable yet distinct, the North & South "Putter Champ" stands in concert with the resort's iconic Putter Boy, differentiated only by a slight angled silhouette and simplified vintage treatment. Adorned in official Pine Green, and perched above a gothic word mark, the entire emblem has roots tracing back to Pinehurst's robust archives and beloved identity. This logo, which was a design collaboration with Sugarloaf Social Club, will be exclusive to all North & South Championship materials starting this year, including tournament touchpoints and associated merchandise.
The men's and women's North & South Amateurs have historically been among the most marquee of amateur competitions, and remain so to this day, earning the coveted "A" ranking from WAGR. Past champions of the tournaments include Francis Oiumet, Jack Nicklaus, Curtis Strange, Corey Pavin, Hal Sutton, Babe Zaharias, Peggy Kirk Bell, Estelle Lawson Page, Yani Tseng, Danielle Kang and many more recognizable names.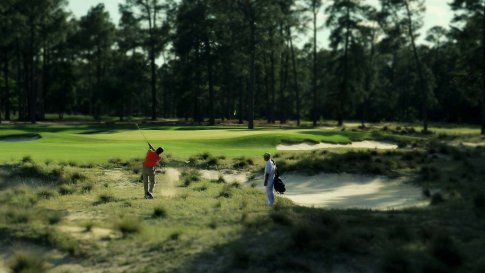 Donald Ross Package
Our most popular year-round golf package includes an extra round of golf.
Resort accommodations for two nights
Three rounds of golf
Overflowing breakfast buffet and dinner daily
Package Details