Inspired by Granny's Donuts, the collaboration is the first between PBC, Southern Pines Brewing Co. and Railhouse Brewery
It's community over competition that connect Moore County's three breweries, Pinehurst Brewing Co., Southern Pines Brewing Co. and Railhouse Brewery. Craft beer collaborations typically inspire creative flavors and methods, which is certainly the case with the aptly-named Community Blues, a Fruited Pastry Weisse, made with a little local love … and whole lot of doughnuts.
"The philosophy behind collaboration is utilizing something from the community," says Eric Mitchell, Pinehurst Brewing Co's head brewer. It was the suggestion of Southern Pines' Micah Niebauer to showcase an area staple, Granny's Donuts.
The Aberdeen bakery has been an institution for nearly 40 years and it was their blueberry cake variety that ultimately provided the base for their brew – 50 pounds of them to be exact. With Southern Pines taking the lead on the recipe, Mitchell and his team, along with Railhouse brewers, all contributed modifications resulting in the final product, a hugely flavorful purple-hued beer that packs fairly powerful punch at 9.4% ABV.
This marks the first collaboration between the three breweries and Mitchell hopes there will be more in the future. "It's always fun when everyone gets together because everyone does things a different way and you have to find a middle ground." Community Blues is currently on tap at Pinehurst Brewing Company and Southern Pines Brewing Company.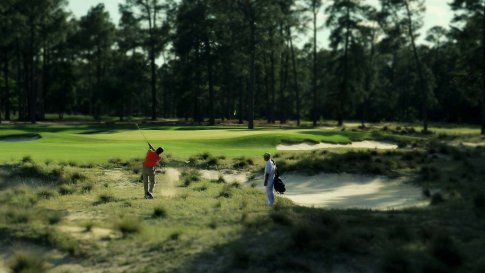 Donald Ross Package
Our most popular year-round golf package includes an extra round of golf.
Resort accommodations for two nights
Three rounds of golf
Overflowing breakfast buffet and dinner daily
Package Details