For someone who may never have experienced a day at The Spa at Pinehurst, it could be difficult to know fully just what you might be in for, or how it may go. And even if you have been a past guest, it's always good to be reminded of the benefits from a day away from the hustle of the everyday.
Here's a look at a few of the moments you could experience at The Spa, as told to us by a former guest.
Your Relaxation Will Begin Right Away
After checking in, I got a quick tour of the 31,000 square-foot facility. I was assigned a locker, but it wasn't one of those metal units I used during high school. Opening the wooden locker was like lifting the top of a treasure chest as I found a fluffy white robe hanging inside.
I grabbed the robe and went to one of the private dressing rooms to change. When I emerged, I could already feel myself slipping into a foreign state of relaxation.
You are our Guest, and of course, you will be treated that way
My Pinehurst Massage started right on time. I was happy to see Stacy's smiling face when she came to take me back to the treatment room. I've had a handful of massages at various places and I will tell you most therapists I've had in the past haven't been anywhere nearly as friendly as Stacy. She exuded the Pinehurst spirit.
This is your experience, so it is all about you
Stacy started by asking if I had any trouble areas, and I quickly filled her in on my aching back and shoulders. No problem, she would start there.
Stacy worked on the knots in my backing, checking in periodically to make sure the pressure wasn't too much. I was barely lucid by this point, drifting in between a state of euphoria and sleep. That's right, I was so relaxed I actually fell asleep a couple times.
After taking care of my back and legs, it was time to flip over. Now usually this is the awkward part of the massage because you're not facing the therapist. I always wondered if I should close my eyes or simply look up. What's the proper etiquette?
I didn't have to worry about that Friday. Stacy draped an eye pillow across my face and tucked a warm pillow beneath my head. Ahhhh, it was blissful.
Your day doesn't end with the massage
I had a hard time even standing up after my massage ended. It wasn't because I was in pain, quite the opposite. My body was so relaxed I could barely remember what it was like to walk.
I slid back into my robe and headed for the women's relaxation area. I have to admit, I was thrilled women and men get their own space.
I flopped down on a lounge chair for a while and closed my eyes. With eyes closed, I breathed in and out, allowing the stress of the week to disappear. Later, I went into the whirlpool, later still, the sauna. While I soaked in the whirlpool, a young woman came around with a tray of strawberry smoothies. I didn't see a single person turn one down.
Finally, walking out
I rarely have such "me days," but that day convinced me I should take time for myself more often. Since my time at The Spa, I've felt a renewed sense of energy. I'm already looking forward to my next visit.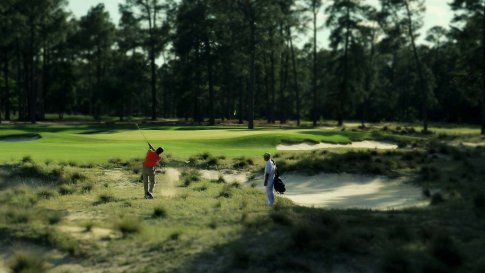 Donald Ross Package
Our most popular year-round golf package includes an extra round of golf.
Resort accommodations for two nights
Three rounds of golf
Overflowing breakfast buffet and dinner daily
Package Details