If you tuned in to any series of shows of ESPN Radio's Golic & Wingo through a few weeks in April, you might've heard our name come up a few times.
A year ago, the boys at the show had a little discussion about walking vs. taking a cart to play golf. This is where Mike Golic found himself reeled in by fellow host Trey Wingo, especially when the conversation turned to Pinehurst:
Out of that moment in 2018, we were able to invite Golic and Wingo, as well as Golic's son and host Mike Golic Jr., to Pinehurst along with a few lucky contest winners for a couple days of golf and fun in Pinehurst.
Well, they had such a great time last summer that they are coming back this June. And so, in April, they started teasing the contest again:
The contest has closed, so you can't enter anymore. But we're excited to host the guys and their new friends again this summer. This time, they'll get to enjoy golf on Pinehurst No. 2, the Gil Hanse redesign of Pinehurst No. 4 and The Cradle as well as a beer tasting and dinner at Pinehurst Brewing Co., compliments of head brewer Eric Mitchell and smokemaster Chris Dowd.
We're looking forward to seeing the guys again, and will be looking to see if Trey can make another run at replicating Payne Stewart's famous putt to win the 1999 U.S. Open:
Highlight of the day… made the Payne Stewart putt on 18. pic.twitter.com/oALQRjYblI

— trey wingo (@wingoz) June 22, 2018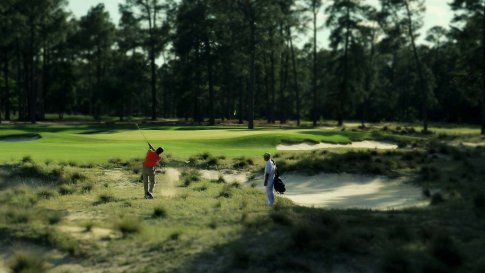 Donald Ross Package
Our most popular year-round golf package includes an extra round of golf.
Resort accommodations for two nights
Three rounds of golf
Overflowing breakfast buffet and dinner daily
Package Details