Kindel Grand Rapids announced the debut of the Pinehurst Collection at the Fall 2017 High Point Market. This collaboration between two distinctly American brands—one of handcrafted, high-end furniture and the other dubbed the Cradle of American golf—has produced a capsule collection of 13 timeless yet remarkable pieces. Jim Fisher, Chairman of the Board for Kindel Grand Rapids, proudly states, "Both brands have a storied history of craftsmanship; whether it is luxury furniture or world-class golf, this unique collection reflects that glowing reputation."
Fisher, whose family has owned Kindel since 1964, recognized that there was an opportunity for Pinehurst to team with a traditional yet innovative brand like Kindel. "We clearly saw the significance of tying the history of the Resort together with Kindel because we share common goals about the value of our heritage and carrying forward principles of our craft," says Pinehurst President Tom Pashley.
The essence of this collection emanates from the design of the product complemented with the wood species that were selected in crafting the furniture; premier Knotty Pine veneers and Maple. The Pine is perfectly suited to reflect the landscape of the resort in Pinehurst. Because of the expertise and versatility of the Kindel Grand Rapids finishing process, the designs are complete with finishes that create a lifestyle collection that reflects how we live today.
The Pinehurst Collection is comprised of 13 new patterns that include upholstery, occasional and dining room furniture. The highlights of the collection include the Pinehurst Cocktail Table, featuring a glass top depicting a 1922 vintage map of the original courses designed by the legendary Donald Ross. Other standouts of the collection include the Longleaf Armchair accented with a carved crest rail of Longleaf Pine boughs, the Fairway Table, a 60-inch, round pedestal table made of the classic Pine veneer, and the Putter Boy Club Chair with Knotty Pine, bracket feet, all clear examples of traditional design with a twist. The collection also introduces eight new wood stains, pigmented stains and paint colors that are available on any of the pieces. Fisher says of the collection, "There is a wonderful, casual elegance to the design elements with a respectful nod to the tradition. A fresh approach to colors and mix of patterns blend perfectly in expressing the Pinehurst sensibility."
Each piece of furniture is embellished with a bronze medallion of the Putter Boy, the iconic logo of the Pinehurst Resort.
The classic design of the furniture combined with the Knotty Pine in various colors allows Kindel to honor their rich heritage while simultaneously appealing to a broader audience. Kindel has continued to evolve in recent years to offer a wide spectrum of designs and finishes to emerge as the preeminent source for high-end, luxury furniture.
For more information about purchasing items from the Pinehurst Collection, please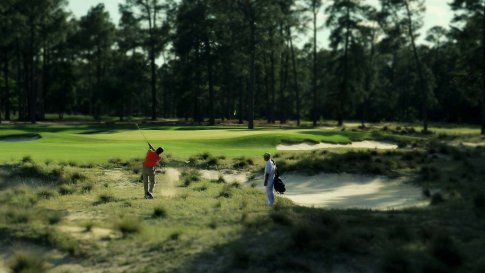 Donald Ross Package
Our most popular year-round golf package includes an extra round of golf.
Resort accommodations for two nights
Three rounds of golf
Overflowing breakfast buffet and dinner daily
Package Details