Eventually, it's going to get warm again this year, and perhaps more likely, it'll get warm before we know it.
But whether you visit Pinehurst often or play anywhere around the country and just want to represent the Cradle of American Golf, the intersections of comfort, style and technology are merging in golfwear and fun products. You can find any of these cool – and cooling – items at ShopPinehurst.com.
The CoolCore cap does exactly what it describes – it's a hat designed to help keep the player cooler during a warm round. The CoolCore caps reduce surface fabric temperatures by 30 percent compared to your skin temperature. But it doesn't stop there. Active technology in the caps use the moisture from sweat and circulates it throughout the hat, keeping you cool.
There's nothing better than having the perfect golf shirt, no matter the round, and this Jubilee Jersey is great for even the hottest days of the year. It is lightweight, breathable, quick-drying and stretches four ways for maximum comfort. Stay cool in the moisture-wicking jersey and enjoy the easy-care and odor control finish on the golf course and beyond.
We haven't forgotten about the ladies, and these stylish golf shirts by Ibkul are the latest in golfwear's cooling technology. This high-tech fabric cools your body up to 5 degrees, maintains a UPF 50 rating and also has moisture wicking.
Sure, you could use it with your golf cart. Or you could bring Pinehurst with you to the beach, to the pool or anywhere you like to relax most.
This makes golf ball-sized – and styled – ice spheres.
Done and done.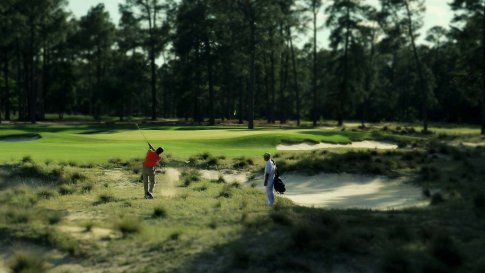 Donald Ross Package
Our most popular year-round golf package includes an extra round of golf.
Resort accommodations for two nights
Three rounds of golf
Overflowing breakfast buffet and dinner daily
Package Details