As we like to say in the South, bless him.
Bless you, Mike Golic. And bless you, Trey Wingo, for putting Golic in his place.
It's all good fun here, and we'll admit we're playing this with our tongue planted firmly in cheek. Still, we enjoyed it immensely this week on ESPN's Golic & Wingo when Golic tried to call BS on golfers who like to walk when they play. Wingo agreed, but only to a point, mentioning that when he gets the opportunity to play historic courses, he's always going to walk. "I would always rather walk on Pinehurst No. 2," Wingo says.
Here, though, is where Golic thinks he sees an opening.
"I will not lie," Golic starts, his face beginning to light up. "I like to walk on Pinehurst 6."
But Wingo knows he has him, and cuts the former NFL defensive tackle with a chop block.
"That is a course, by the way," Wingo says completely deadpan, knowing he's got him.
"Is it really?" Golic responds. "Dammit."
Then Wingo lets him have it for a few seconds.
Golic, though, can't leave it alone, and tries to save it.
"But I heard Pinehurst 6 is a par-3," Golic tries, in vain.
Wingo has him again. Bless him.
"No, it's not a par-3. That would be The  Cradle, the new situation (at Pinehurst)."
Golic now, though, seems excited.
"Oh, now that's what I would like," Golic says, before getting even more info from Wingo, who continues to preach the Pinehurst gospel.
Truly, fellas, thanks for the kind words. And Golic, you're welcome any time to try The Cradle.
As for you, Trey? The tee is yours.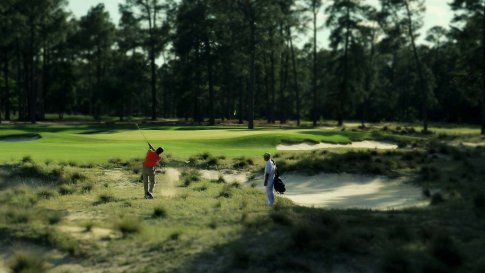 Donald Ross Package
Our most popular year-round golf package includes an extra round of golf.
Resort accommodations for two nights
Three rounds of golf
Overflowing breakfast buffet and dinner daily
Package Details