If you're a fan of key lime pie, you've probably come to realize all versions of the dessert are not created equal.
So is the case with our Mile-High Key Lime Pie.
The photo above likely explains what sets our tangy, sweet treat apart from the competition – it's enormous.
Seriously. Your eyes are NOT deceiving you.
We suggest bringing a friend (or 10) along to help you eat this dessert, but it's so delicious you may be tempted to try the feat yourself.
It's OK, we've all been there.
If your sweet tooth is as serious as mine, you may be inclined to skip your meal and go straight for dessert. If so, no judgment here.
Now that your mouth is watering, stop by the Ryder Cup Lounge to try it out. Those who are feeling adventurous may even want to make it at home, so we've provided the recipe below.
Mile-High Key Lime Pie
Pie Crust
20  Whole graham crackers (10 ounces total), broken
1 1/2 sticks  Unsalted butter, diced, chilled
1/2 cup  Brown Sugar, packed
Combine graham crackers, butter and sugar in processor.  Blend until crumbs begin to stick together.  Press crumbs onto bottom of pie tin.  Set aside.
Note: If you want to skip a step, simply buy a pre-made graham cracker pie crust.
Key lime filling
1  Egg
18.5 oz.  Sweetened condensed milk
1/2 cup  Egg yolks
1/6 cup  Lime juice
Mix ingredients until incorporated. Pour filling into the prepared pie crust. Bake at 350 degrees for 30 – 45 minutes. Let cool and refrigerate for 4 hours.
Mile-High meringue
1 lb.  Egg whites, no traces of yolk
2 lb.  Sugar
8 oz. Water
Preheat oven to 400°F. Boil sugar to hardball stage, 245°F. When sugar reaches 200°F, begin beating the egg whites at high speed to hard peak. Do not overbeat.
Once the sugar reaches 245°F, combine it with meringue as machine continues to run at medium speed.
Bring speed back to high and continue beating until the meringue becomes stiff, but still warm.
Begin icing while the meringue is still warm.
Place pie in preheated oven for 4-6 minutes.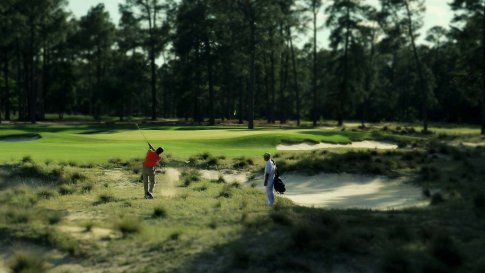 Donald Ross Package
Our most popular year-round golf package includes an extra round of golf.
Resort accommodations for two nights
Three rounds of golf
Overflowing breakfast buffet and dinner daily
Package Details