Joined by Pinehurst President Tom Pashley on The Golf Channel, Hanse describes plans for Pinehurst No. 4
We're excited to offer a further glimpse into the Gil Hanse redesign of Pinehurst No. 4 with two hole illustrations.
The illustrations are of the 6th and 9th holes of No. 4, revealing some of the sandscape and native characteristics Hanse plans to return to No. 4. The illustrations also include renderings of how the two holes look currently.
"When you look at No. 4, you look at the scale, and the topography on it is really stunning," Hanse said on The Golf Channel's Morning Drive on Wednesday. "It's more dramatic than what Bill (Coore) and Ben (Crenshaw) and Donald Ross had to work with on No. 2. We think as you look through the great vistas that come about there – there's a beautiful lake in the center of the property – and there's a lot more undulation to it. If we reintroduce these characteristics – the sandy, scrubby nature – on a scale that fits this piece of property, I think the potential is really pretty exciting."
Hanse added more details on how he feels he can incorporate Ross' original spirit into No. 4.
"It's a golf course that's been changed and altered. There's no way to take it back to the original Ross design; a lot of those holes are gone," Hanse said. "But looking at the Ross designs, his plans, were there elements of that that we could bring back into it that will make the course truly feel a lot more like Ross? So, some cross-hazards, some more diagonal bunkering, looking at the green complexes and getting them to sit softly into the landscape, maybe some slight elevation changes as he did on No. 2."
Pinehurst announced in early November that Hanse Golf Design would redesign Pinehurst No. 4 and develop a short course as part of a master plan to further restore the original character and spirit to the Pinehurst golf experience. Hanse's design and routing, which seeks to create a landscape similar to Pinehurst No. 2, will include exposed sand and native wire grass, wider fairways and natural topography. The project is scheduled to begin in fall 2017 with the course reopening in fall 2018.
"It's just going back in and reimagining the look of it to fit in with what Bill and Ben did on No. 2 – that whole Pinehurst feel to it. … As with any project, if you've got sand underneath, we're excited, so we're excited to be playing in that sand," Hanse added.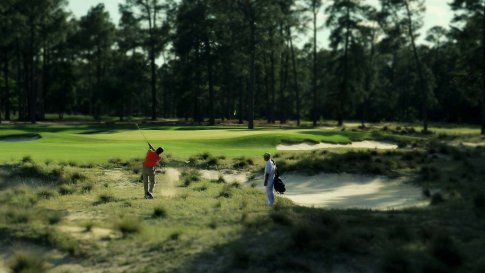 Donald Ross Package
Our most popular year-round golf package includes an extra round of golf.
Resort accommodations for two nights
Three rounds of golf
Overflowing breakfast buffet and dinner daily
Package Details