Every year, we enjoy interacting with people via various platforms on social media. That said, we tend to treat each platform a little differently. On Facebook, we like to share news and notes with you. On Twitter, we hope it's a little more conversational.
On Instagram, though, we get to show off a little. And it might be the most fun place to interact with all of you.
And so, with 2018 now at a close, here's a look at turned out to be the most popular and fun Instagram posts of the year.
---
When Gil Hanse's redesign of Pinehurst No. 4 was named "Best New Course You Can Play by Golf Magazine recently, it gave us another opportunity to share the photo of the first look we gave you of the new No. 4.
---
On National Dog Day, we decided to let the dogs run at The Cradle. It was certainly a different – and fun – look at Pinehurst.
---
Sometimes, the older things get, the more we can't take our eyes off them. That was the case on the last day of 2018 when the Putter Boy just looked resplendent in the fog.
---
When Golf Channel came to visit and play a live round on The Cradle, the short course's designer Gil Hanse stole the show, very nearly making an ace live on TV.
---
Christian Hafer is one of the best follows on Instagram, and when he was here for a visit, we let him take over our account. Check out his story here, and marvel at one of his shots below.
---
What got y'all talking the most this summer? Your love – no, your need – for a Deuce milkshake.
---
One of the best Easter Eggs at the Pinehurst clubhouse. Come and find them.
---
We started with No. 4, and we'll end with it. By far – even outpacing Payne's Stewart's melodic swing and John Daly in Legos – this was our most viewed video on Instagram this year.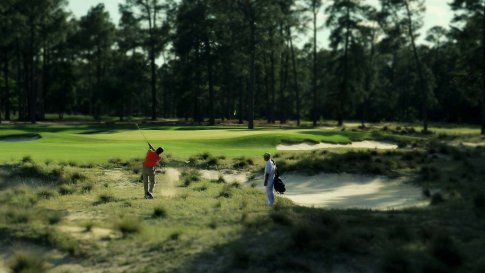 Donald Ross Package
Our most popular year-round golf package includes an extra round of golf.
Resort accommodations for two nights
Three rounds of golf
Overflowing breakfast buffet and dinner daily
Package Details