2018 proved to be a big year for us. When we begin to think about everything that happened here this year, it's easy to see why it all went by so quickly.
That said, there were a few moments that were bigger than others. We tossed out the question on Twitter to see what our followers thought was the biggest story of the year to come out of Pinehurst, and here were the Top 4:
Gil Hanse's Redesign of Pinehurst No. 4 Opens
During Hanse's construction, we'd stand on the 6thgreen of No. 4 and wonder what this could be, how it was going to play, and what it would look like.
By the time No. 4 re-opened on Sept. 20, we were blown away. So were the players.
Less than three months later, Golf Magazine named No. 4 the, "Best New Course You Can Play," adding, "This year, Hanse, partner Jim Wagner and their team collected a few more trophies, none more richly deserved than what they earned for their extreme makeover of Pinehurst No. 4. Whether this is a redesign, as Hanse's working plans state, or a brand new course, as Hanse himself asserts, it's a remarkable piece of work.
"No. 4 may never reach the tournament stature of its fabled No. 2 sibling, but for strategy, visuals and enjoyment, it's in a class by itself."
We lost our dear friend Willie McRae
His dad first brought young Willie to caddie at Pinehurst on his 10th birthday, May 19, 1943.
McRae continued to loop at Pinehurst for more than 70 years. On Sunday, Oct. 28, about a year after he retired from caddying, Willie McRae passed away.
His life was celebrated throughout all of golf through the end of the year. Willie caddied for five presidents, for golf legends like Donald Ross, Bobby Jones and Sam Snead, and for celebrities ranging from Mickey Mantle to Michael Jordan to Peyton Manning. Yet he would always be quick to say, "To me, everybody's a celebrity. Everybody's special in their own way."
We will always miss Willie.
The Pinehurst Brewing Co. Opens
On New Year's Eve in 1895, the steam produced by the Village Power House enabled The Holly Inn to welcome the first guests to Pinehurst with the very latest in luxury amenities – heat and electricity.
For decades, the steam plant powered the homes, hotels and cottages of Pinehurst until it was shuttered in the 1990s, falling into disrepair and, at one time, slated for demolition.
Now, though, after a full renovation by to maintain its original façade and capture the character of the century-old building, the steam plant has re-emerged as the Pinehurst Brewing Company, which opened this fall.
A Ryder Cup Wager Loss
The Ryder Cup Wager began in 2016. The idea is simple: If Team USA wins the Ryder Cup, St Andrews flies a Pinehurst No. 2 flag on the 18th hole of The Old Course. (And yes, this happened.) But if Europe wins, Pinehurst has to fly an Old Course flag on 18 of No. 2.
It was such a joy to see the Pinehurst No. 2 flag on the 18th Hole of The Old Course at St Andrews two years ago, and it would've been great to see again.
Alas, we lost the #RyderCupWager this time. But even in defeat, we have to say it was pretty special to be able to fly the Old Course flag on 18th of No. 2 the couple of days after the Ryder Cup. Truly, what an honor.
And we're looking forward to #RyderCupWager3 in 2020.
Honorable Mention
OK, one Honorable Mention from 2018 – Jared Jacobs, he of the insanely good Lego sports recreations, helped us celebrate U.S. Open week with a Lego version of perhaps the most infamous shot in Pinehurst history: John Daly's meltdown on the 8th hole of No. 2 during the 1999 U.S. Open.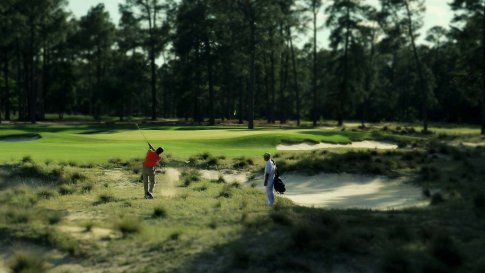 Donald Ross Package
Our most popular year-round golf package includes an extra round of golf.
Resort accommodations for two nights
Three rounds of golf
Overflowing breakfast buffet and dinner daily
Package Details