After 125 years, we've learned at Pinehurst that there are several signs that Spring really is just around the corner. And while the Official First Day of Spring is Saturday, March 20, (or, as we like to call it, FDOS!) it's always good to see the early suggestions – big and small – that warmer, longer days are ahead.
Yet, even after all those decades, you'd think we had seen every signal of the approaching Spring. But there's a new one this year. We'll get to that in a minute.
Until then, let's check in on a few of the usual Signs of Spring, and check in to see if we've caught those so far.
---
The Tennis Trees
Every year, they are first. The two large flowering cherry trees that frame the Pinehurst Tennis Club are stately in their size and always the first of the blooming flowering trees around Pinehurst. With all of the towering pines, these stand out with their bright pink color and always seem to come a few days before the Bradford Pear trees pop, a couple of weeks before the dogwoods show off and ahead of the annual azaleas. Their show doesn't last long, but it's the sight for sore eyes we all desperately need.
---
Shadowing the Fox Squirrels in February
We can confirm that the Pinehurst fox squirrels saw their shadows this morning, meaning there will be another full year of beautiful days in Pinehurst.

That's how it works here. We got you, babe.#GroundhogDay pic.twitter.com/lATnBIRPTJ

— Pinehurst Resort (@PinehurstResort) February 2, 2021
Most people don't know this, or choose – for some reason – to always follow Phil up there in Punxsutawney. Whatever. Those of us around here in Pinehurst know that on every February 2, whenever the fox squirrels see their shadows, that means it's going to be another year of beautiful days in Pinehurst. Also, if the fox squirrels don't see their shadows, it means it's going to be another year of beautiful days in Pinehurst.
That's the beauty of the fox squirrels – they're never wrong.
---
Frolin's Return
That moment you walk up the brick path toward the Pinehurst Clubhouse, and you hear that voice before you even see him.
"TOP O' THE MORNIN' TO YA!"
And you know he's back, which means one thing.
"Spring is here if I am here," says Frolin Hatcher, who has worked at the bag drop of the Clubhouse with Larry Goins for more than three decades. "I am not coming back until the weather is warm."
"I usually take two weeks off in January and February," Larry says, "but spring has sprung if Frolin is back."
So, what exact day does Frolin return to his spot this year?
March 20, 2021.
The First Day of Spring. #FDOS
---
The First Day of Spring in 2021
Yes, there are indeed still new signs of Spring that are happening in Pinehurst.
This one, though, we can't quite tell you about yet.
But we will soon. Like, on Saturday morning.
Hint: It has to do with the FDOS, so keep checking @PinehurstResort and @Shop.Pinehurst (AND HERE) for more information soon.
But when you see it, you'll know it's Springtime in Pinehurst.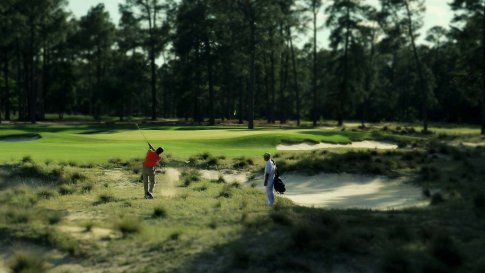 Donald Ross Package
Our most popular year-round golf package includes an extra round of golf.
Resort accommodations for two nights
Three rounds of golf
Overflowing breakfast buffet and dinner daily
Package Details