Ken "The Champ" Climo is a professional disc golfer and considered by many to be the best player to have ever played the game.
And so when he came to play "ball golf" on Pinehurst No. 2, we, of course, asked him to break out a disc or two.
Honestly, we couldn't wait to see what happens when you mix elite championship golf with disc golf.
Climo has claimed 12 PDGA World Championship titles, including nine in as many years from 1990-to-1998. Climo's dominance in the world championships is unmatched; Harold Duvall (1982, 1985), Barry Schultz (2003, 2004), Nate Doss (2005, 2007, 2011) and Paul McBeth (2012-13) are the only other golfers with more than one open world title. In addition to his world titles, Climo claimed his fifth United States Disc Golf Championship (the premier event in the game) title in 2007. Named seven times as the PDGA player of the year, Climo was inducted into the PDGA Hall of Fame in 1995. In his career he has won more than 200 tournaments and leads the lifetime PDGA money list.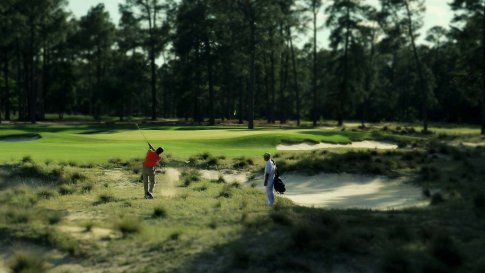 Donald Ross Package
Our most popular year-round golf package includes an extra round of golf.
Resort accommodations for two nights
Three rounds of golf
Overflowing breakfast buffet and dinner daily
Package Details