For the last two weeks, we've been watching how our Women's North & South Amateur champions and runners-up fared during the grueling 8-round Q Series to determine the players who would earn their LPGA Tour cards for the 2019 season.
There were a lot of highs…and some devastating lows.
Here is how the Pinehurst connection turned out over four rounds each at Pinehurst No. 6 and Pinehurst No. 7. (For all scores, please go here.)
The Qualifiers
Kristen Gillman (2016 Women's North & South Amateur Champion) +1, T13th
Before the Q Series began, we could count 10 of the last 16 Women's North & South Champs as players who eventually went on to earn touring status on the LPGA Tour.
Gillman makes it 11.
She has a decision to make for when she will turn pro – before or after her collegiate season ends – but Gillman was rock solid in Pinehurst again, becoming the second player since 2011 to win two U.S. Women's Amateurs, a North & South and then advance to the LPGA Tour, joining major champion Danielle Kang.
Alison Lee (2014 Women's North & South Amateur Champion) +2, T15th
A member of the 2015 Solheim Cup team – just a year after winning the North & South – Lee had a heartbreaking year on the LPGA Tour in 2018, missing 12 cuts out of 16 events and earning just $12,054.
Things didn't start well for Lee in her return to Pinehurst, opening with a 76 and a 77. But an ace on the 16th hole of No. 6 in her fourth round sparked Lee to a 7-under 65, and she was solid from there. It's a good bet Lee returns to the form that has earned her north of $1.2 million on the LPGA Tour.
Love Pinehurst!!! It's always a joy to come down!! https://t.co/yv5Ymw33ut

— Lori Beth Adams (@LB_Adams1) November 3, 2018
Lori Beth Adams (2014 Women's North & South Amateur Runner-Up) +7, T33rd
Allow us to enjoy the moment with Adams, who during her collegiate career at UNC-Wilmington developed a love for Pinehurst and the Women's North & South that few players feel. Adams very nearly beat Lee in 2014, and the two were grouped together during the Q Series' first two rounds. Adams was solid, if not spectacular, through six rounds, finding herself right at the cut line. But a 7-under 65 on No. 7 in the seventh round elevated her well inside the Top 45 and ties who would earn their cards.
We're extremely happy for Lori Beth, who had a great year last season on the Symetra Tour, and who continues to show the determined grinding, fighting nature that made us such fans of her all those years at the North & South.
The Bizarre
With God's grace I decide to move on. Please respect my privacy. Thank you. pic.twitter.com/O79JcdKVON

— Doris Chen (@DCHEN_03) November 4, 2018
Doris Chen (Two-time Women's North & South Amateur Runner-Up, 2011, 2012) DQ
Ugh.
Chen has been trying to find the magic that made her one of the most anticipated junior players over the last several years. Things really went off the rails in Pinehurst.
Chen hovered around the cut line for the most of the event through six rounds. But then…from Golf.com:
A former NCAA champion was disqualified from the LPGA's qualifying event after hitting a ball that had been moved by an outside agency from out of bounds back into play.
The outside agency?
Her mother, according to two reports.
The ball in question belonged to Doris Chen, whose drive on the 17th hole of Pinehurst No. 7 in the seventh round of the LPGA's Q-Series came to rest beyond the O.B. stakes. The LPGA said in a statement: "An outside agency moved her ball back in bounds. Ms. Chen and her caddie were made aware that the ball had been moved. Doris elected to play the ball, which was a wrong ball by definition, from its altered lie."
Because Chen did not penalize herself for the violation before teeing off on the next hole, she was disqualified for breaching Rule 15-3b.
Sources told both Golf Channel and Golfweek that Chen's mother had moved the ball back into play. An LPGA source told Randall Mell of Golf Channel that a homeowner on the course witnessed the infraction and described the woman to LPGA officials, who identified the culprit as Chen's mother, Yuh-Guey Lin.
The Heartbreak
The Q Series didn't go so well for three former North & South Champions, and a former runner-up:
It's an agonizing finish for 2010 N&S Champ Cydney Clanton (+19, T73), who finished No. 101 on the LPGA Tour money list in 2018 – just one slot out of keeping her card. 2009 Champ Amelia Lewis (+20, T77) had two rounds in the 60s, but opened with an 80. 2012 Champ Bailey Tardy (+31, 98th) was never able to contend, but can return to Georgia to continue a stellar collegiate career. And 2016 Runner-Up Katelyn Dambaugh (+14, T61) was in card contention until the end, never shooting higher than 75…til the 77 in the eighth round that knocked her three shots below the cut line.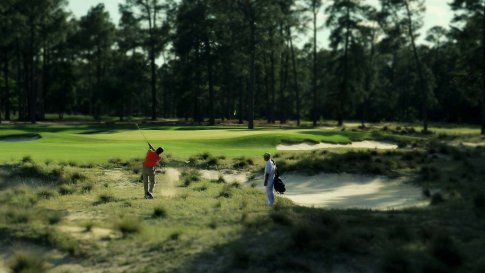 Donald Ross Package
Our most popular year-round golf package includes an extra round of golf.
Resort accommodations for two nights
Three rounds of golf
Overflowing breakfast buffet and dinner daily
Package Details