We will see a lot of familiar faces at the LPGA Tour's Q Series in Pinehurst over the next two weeks. If this feels like a playing of the Women's North & South Amateur All-Stars, you're not wrong.
The final stage of qualifying for the 2019 season on the LPGA Tour will take place over eight rounds, first from Oct. 24-27 on Pinehurst No. 6, and then from Oct. 31-Nov. 3 on Pinehurst No. 7.
Below, we'll give you some details of how the tournament works, how the field has been constructed, and other tidbits. But first, back to those familiar faces.
While there's no telling just how many players in the field have North & South experience – it's a lot, though – the North & South pedigree is on full display here. Eleven of the past 16 Women's North & South Champs have gone on to earn status on the LPGA Tour at some point. And a few of our former winners are looking to punch their tickets to the big leagues for the first time – and a few others are hopeful to get back to The Show.
Welcome to Pinehurst @LPGA for the LPGA Q-Series!@PinehurstResort
Sponsored by @BlueCrossNC pic.twitter.com/RiIAQp1Hxh

— Towering Pines Real Estate (@ToweringPinesRE) October 23, 2018
A quick glance:
2016 Champion Kristen Gillman Gillman (shown above) has been a star in the making for a while now. She won the 2014 U.S. Women's Amateur at 16 and later won the North & South, becoming the first player to win both since Danielle Kang. While Gillman has long been a star at Alabama, she won her second U.S Women's Amateur in 2018, becoming the first player to do that since…Danielle Kang. (Kang won the LPGA Tour event this week – is that a sign for Gillman?) Gillman played well at Stage II last week to earn her way into the field. She's playing as an amateur.
2015 Champion Bailey Tardy Tardy was still looking ahead to her collegiate career at Georgia when she won the North & South, and has since blossomed into an All-SEC player. Her 2017-18 season was cut short by injury, but her game is back in top form after advancing out of Stage II Q School.
2014 Champion Alison Lee Lee had appeared well on her way to star status on the LPGA Tour after a brilliant rookie year. Since then, though, her game has spiraled downward. In four years on the LPGA Tour, Lee has made $1.2 million in earnings. Last season? She made just $12,054, missing 12 cuts in 16 tournaments. But her game has also started to come back, and she sailed through Stage II with a tie for fourth, getting encouragement all the way from another North & South Champ – Austin Ernst (2012).
2010 Champion Cydney Clanton Since winning the North & South, Clanton has bounced between the LPGA Tour and the developmental Symetra Tour. Clanton, though, has earned more than half a million over the years, and in 2017 made more than $245,000 to keep her card. Her season in 2018 was fine, making just north of $100,000. The problem? She finished No. 101 on the money list, exactly one spot out of earning her card for 2019 – an agonizing $2,322 from returning to the Tour. Now she'll have to play for it.
2009 Champion Amelia Lewis Lewis has also made more than $500,000 in her career on the LPGA Tour, but struggled in 2018, finishing 145th on the money list. Still, that finish was just enough to give her an opportunity to rekindle some Pinehurst magic.
Even if they didn't win the Women's North & South, three past runners-up will be vying for a chance to hit the LPGA Tour. Katelyn Dambaugh (lost to Gillman, 2016) qualified for the LPGA Tour in 2018 by way of her play on the Symetra Tour, but fell a few slots short of earning her card again. Lori Beth Adams (lost to Lee, 2014) enjoyed her best season as a professional on the Symetra Tour in 2018, nearly qualifying for the LPGA Tour after finishing 15th on the money list with $47,597. Two-time North & South runner-up Doris Chen (lost to Kang, 2011; lost to Ernst, 2012) hopes to regain the promise of her junior career. She won the 2010 U.S. Girl's Junior and played in the U.S. Women's Open from 2011-2013.
The Field
A release from the LPGA explains the makeup of the field:
A long and rich history of women's golf fills the hallowed forests of Pinehurst. It has hosted the Women's North & South Amateur since 1903 with past champions including legends such as Louise Suggs, Estelle Lawson Page and Peggy Kirk Bell, as well as more recent major winners Yani Tseng, Brittany Lang, Morgan Pressel and Danielle Kang.
Hoping to follow in their footsteps is 37 players who finished from Nos. 101-150 on the current-year LPGA official money list, as well as 19 players from Nos. 11-30 and ties on the Symetra Tour official money list. Furthermore, one member from the top-75 of the Rolex Women's World Golf Rankings and the top-five collegiate players in the country according to Golfweek/Sagarin College Rankings also earned exemption into Q-Series. To round out the field is 40 players who advanced from Stage II of the LPGA Qualifying Tournament.
The Format
Again, from the LPGA:
Individuals will compete in a total of eight rounds over two, four-day tournaments for a with the top-45 finishers and ties receiving LPGA membership in Category 14 on the LPGA Priority List and remaining competitors earning Symetra Tour status. There is no cut and the unofficial purse of $150,000 will be distributed at the event's completion.
First and second round action gets underway at 7:50 a.m. ET on Wednesday and Thursday, respectively. After 36 holes, players will be re-paired by score and stay with the same group for the third and fourth round on Friday and Saturday, respectively. The low score wave goes off in the morning of round three and afternoon of round four. Meanwhile, the high score wave follows the same method, only opposite the low score.
More From Pinehurst
July 15, 2016
Kristen Gillman adds North & South Amateur Championship to her U.S. Women's Amateur crown
Gillman, who won the 2014 U.S. Women's Amateur, defeats Katelyn Dambaugh 3&2 to win the 114th Women's North & South Amateur BY ALEX PODLOGAR       MATCH PLAY BRACKET VILLAGE OF PINEHURST, N.C. – Nothing could slow down Kristen Gillman at the
Read More
June 30, 2016
Curtis Strange and his Putter Boy Trophy
Two-time U.S. Open and two-time North & South Amateur champion Curtis Strange says he doesn't have many trophies on display. But one that does feature prominently is his Putter Boy trophy from his North & South championships in 1975 and
Read More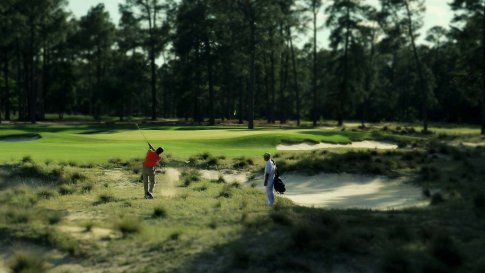 Donald Ross Package
Our most popular year-round golf package includes an extra round of golf.
Resort accommodations for two nights
Three rounds of golf
Overflowing breakfast buffet and dinner daily
Package Details