Whether he's an avid golfer, a collector of great golf course memorabilia, or the businessman type who wants the best of things, we've got you covered when it comes to getting Dad the most perfect gift this year. You can find these great Pinehurst items in one of our on-site golf shops, Vault in Southern Pines, or especially online at Shop Pinehurst.
Happy shopping.
For the Avid Golfer
Stay comfortable on the course this season with the Peter Millar Featherweight collection. According to Peter Millar, "you won't find another polo this lightweight, period." Pair with FootJoy Superlite shoes and glove, along with a sleeve of Putter Boy logo Titleist ProV1s. Ideal for any avid golfer.
The No. 2 Collector
Pinehurst No. 2 has a remarkable championship history. Check out the head covers by Fore Ewe, and from pin flags to ball markers, yardage guides, and engravable bag tags, these souvenirs are meaningful to any championship golf fanatic.
The Businessman
In the office more than on the course? These items can be the perfect office conversation piece that will bring back just the right amount of nostalgia for any businessman. Featuring a Donald Ross polo with our registered Pinehurst Tartan print, an antique brass putting cup, a handmade wooden wall piece by Signs by the Sea, and a Yeti travel cup.
The Trendy Golfer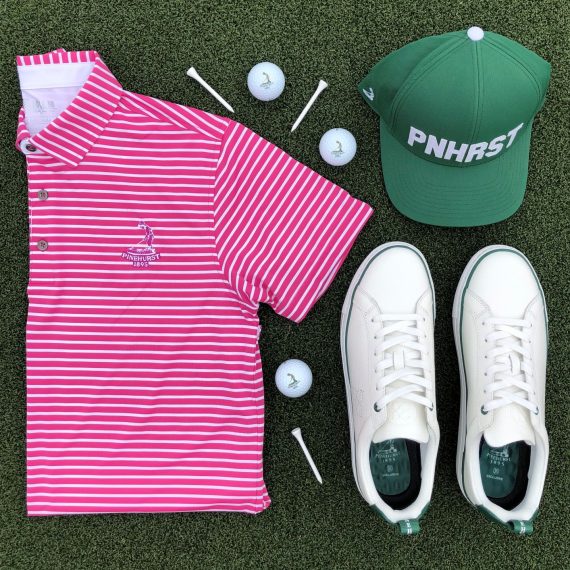 This PNHRST hat and Disruptor golf shoe were designed by G/Fore exclusively for Pinehurst. The footwear is 100% waterproof, full-grain leather, offers superior comfort, and contains 100% microbial cotton lining. The famed Putter Boy logo is featured on the bottom of the shoe and in the interior sole. Perfect for the guy who loves collecting the newest and trendiest items in golf.
The Spectator
For the guy who loves watching golf…but doesn't necessarily love to play it. A "Pinehurst Shirt" and hat by Travis Mathew plus a navy Yeti equals the perfect spectating gear.
The No. 4 Collector
No. 4 is one of Pinehurst's newest treasures after its highly acclaimed redesign by Gil Hanse. These collectors' items pictured feature head covers by Fore Ewe, an exclusive cap by G/Fore, a limited edition (and numbered) putter cover by PRG America, and a Titleist two-ball pack.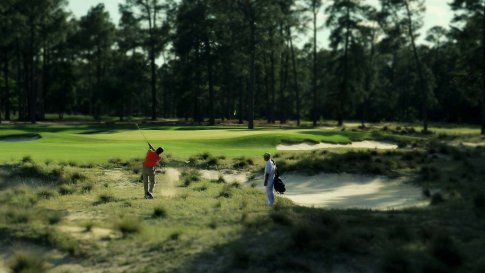 Donald Ross Package
Our most popular year-round golf package includes an extra round of golf.
Resort accommodations for two nights
Three rounds of golf
Overflowing breakfast buffet and dinner daily
Package Details