80 percent.
That's the number. Eighty percent of New Year's Resolutions fail by February.
By February!
So how can you ever hope to achieve success with this New Year's Resolution?
Look to The Spa at Pinehurst for inspiration.
A quick Google search easily finds some of the most popular New Year's Resolutions. And interestingly enough, The Spa could help with many of them. We'll show you how.
Get Healthy and Lose Weight
OK, this is always the tough one, and it's really tough because essentially, the onus is on you. A regular exercise routine can be sidetracked for any number of reasons: it's hard, life and kids and job and spouses get in the way, and sometimes, well, it hurts. Being sore when starting or extending a workout kills the vibe in a hurry and before any noticeable gains can take place.
How The Spa Can Help: Super sore? Try cryotherapy. Or a massage. Or both. A year ago, Pinehurst pro Kelly Mitchum played The Cradle from sunrise to sunset to celebrate the winter solstice. By sunset, he could barely bend down to pick the ball out of the cup one last time. He was hurting, perhaps more than he ever has, and we set him up at The Spa the next day. Another 24 hours later, Kelly wasn't quite a new man, but he was himself again. "Honestly, I felt pretty normal after that, and I know the massage and cryotherapy helped."
Look at it this way – what better reward is there for yourself after a few weeks of working out than some Me Time at The Spa? And there are monthly cryotherapy passes.
Read More
One refrain on this one we've heard is, "More books, less Twitter." And Lord knows, every year we might want to do less on Twitter. (Well, not ALL Twitter.)
How The Spa Can Help: We agree, and there's no place better to unwind than in the lounge area at The Spa. We've often said that a Spa visit here can be like a round of golf – feel free to take four or five hours. Relax in the men's- or women's-only area, where there are whirlpools and a sauna. Or hang out in the open lounge area with the lap pool and whirlpool, sip on smoothies, enjoy lunch from the Spa menu and knock out a few chapters. Put the cell phone away. You don't need it here.
Travel More; Spend Less; Live Life to the Fullest
These are three separate resolutions that are on those Google lists, but we feel like they can be achieved together. Here's how:
How The Spa Can Help: You can cover the first by visiting Pinehurst. After that, here are a couple of options: Join us in May for Girls' Spa Weekend. We'll have more details soon, but it's a weekend centered around enjoying The Spa with dinners, walking tours and interesting interactive classes all together for one unique and special event.
Can't make it in May? Save money through February with a Spa Escape package, which includes overnight accommodations, a spa treatment, all-day access to the Spa's lounge areas, the famed Carolina Hotel breakfast buffet and great savings on additional treatments, all for $198 per night at the historic Holly Inn.
OK, that's travel and saving money. As for living life to the fullest, well, don't you deserve a day at The Spa?
Sure you do.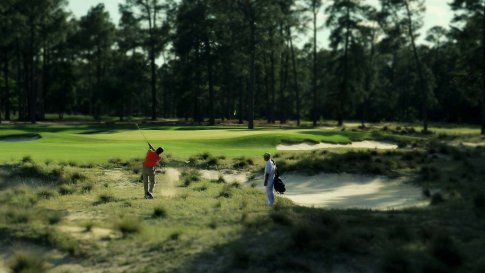 Donald Ross Package
Our most popular year-round golf package includes an extra round of golf.
Resort accommodations for two nights
Three rounds of golf
Overflowing breakfast buffet and dinner daily
Package Details