It's the COOLEST birdie so far on The Cradle
Like just about everyone else in and around golf, we're big fans – and lucky to call ourselves friends – of the incredible kid Tommy Morrissey.
Tommy, born without much of his right arm, boasts a great golf game, and regularly competes at the highest levels of the U.S. Kids World Golf Championships. We had a blast spending the day with him at the Pinehurst Golf Academy a couple of years ago, where Tommy, at just 5 years old, did imitations of his favorite Tour players' swings.
Every once in a while, we run into Tommy, now 7, at Pinehurst, and most recently he and few buddies played our new short course, The Cradle, and our expanded putting course, Thistle Dhu.
And on the 3rd hole of The Cradle, known affectionately as the "Punch Bowl" for its saucer-like green, Tommy hit a beauty of a shot, captured above and in slow motion (Wow, what a golf swing!). If you listen closely in the video, you can hear a click of the ball hitting the pin. Tommy whirls around and asks, "Did it go in?!"
Alas, it didn't. But Tommy's gap wedge to 6 inches made for the easiest birdie made on The Cradle that day. It's definitely the COOLEST birdie we've ever seen on The Cradle.
Good to see you, Tommy.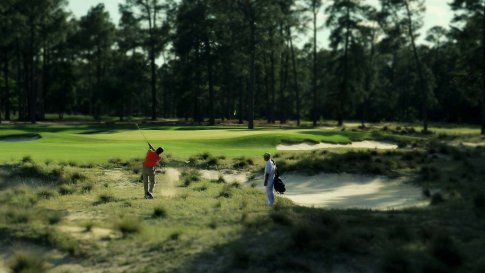 Donald Ross Package
Our most popular year-round golf package includes an extra round of golf.
Resort accommodations for two nights
Three rounds of golf
Overflowing breakfast buffet and dinner daily
Package Details