Donald Ross knew Pinehurst No. 2 was good. So, he made it even better – and a major championship came with it
BY LEE PACE
IN THE EARLY 1930s, MIFFED AT WHAT HE CONSIDERED A SLIGHT by a new golf course in Augusta, Georgia, Donald Ross rededicated himself to what he considered his crown jewel of a design – Pinehurst No. 2.
A few years later, he wanted to show it off.
He found an ally in the PGA Championship – and Pinehurst's first major.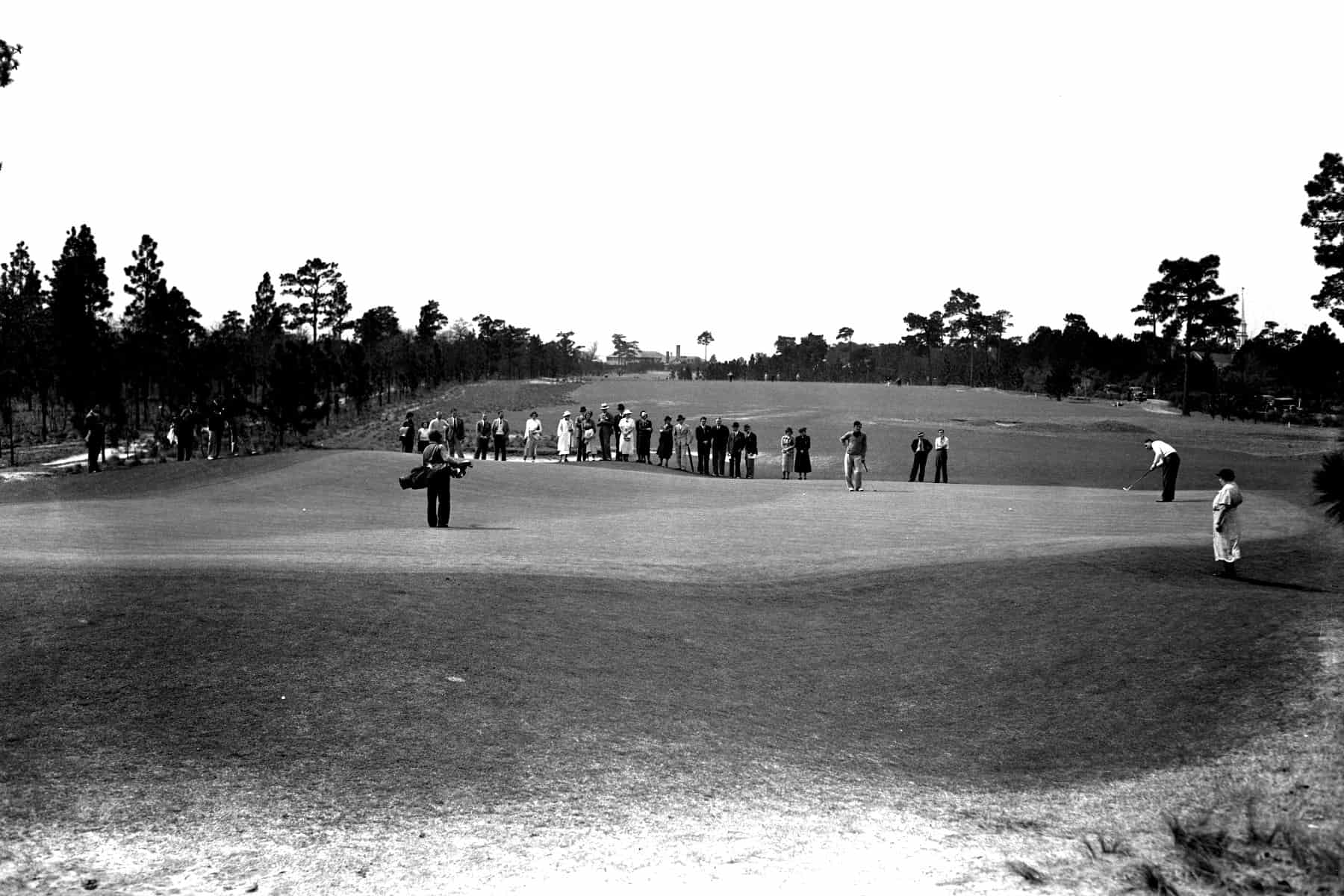 In the mid-1930s, famed architect Donald Ross, perhaps miffed because of losing out on a chance to design Bobby Jones' new course in Augusta, Ga., refocused his efforts into his prived Pinehurst No. 2. A photo from the 1936 North & South shows the care Ross took in updating his gem. This is No. 2's second green. Photo Courtesy of the Tufts Archives.
That important connection between the PGA and Pinehurst head golf professional and Ross, the architect-in-residence, made the 1936 event a logical arrangement for both the PGA and Pinehurst. Though Ross is known as the foremost golf architect in America in the first half of the 1900s — with nearly 400 courses to his credit — he came to America in 1899 from Scotland with the skills of a golf pro and green superintendent.
Charlotte Observer columnist Jake Wade shed some interesting light on Ross's priorities in May 1945 upon Ross's visit to Charlotte to work on his design of Myers Park Country Club. Despite Ross's fame and popularity in designing golf courses, Wade noted that Ross had always maintained his membership in the PGA.
"Mr. Ross looks like a banker and indeed must be quite a wealthy man," Wade wrote. "Yet with his dignity and reserve and gentleness of manner and easy, aristocratic touch, he still likes to be known as a golf professional."
No doubt Ross's connections with the PGA and his desire to showcase a major overhaul of his prized No. 2 course worked to bring the PGA Championship to Pinehurst. There was little if any new design work available in the throes of the Great Depression throughout the first half of the 1930s, so naturally Ross turned his attention to the course he could access by walking out his back door and onto the third green.
Alister MacKenzie and Donald Ross Alister MacKenzie and Donald Ross
And the proud Scotsman was motivated by the emergence of that new course in Augusta, one conceived by golf champion Bob Jones. Ross believed he had a handshake agreement with Jones to build what would become Augusta National Golf Club, but Jones later decided to work with Alister MacKenzie after seeing MacKenzie's work at Cypress Point on the California coast.
"Ross was a proud, reserved, standoffish man, almost egotistically so," author and historian Charles Price noted. "He was miffed. He considered himself to be America's foremost architect."
Ross and green superintendent Frank Maples had made significant agronomic improvements to No. 2 in recent years:
They converted all the tees to grass in 1929.
They laid five miles of irrigation pipe down the fairways in 1933 so the new winter rye grass could be properly watered (architects Bill Coore and Ben Crenshaw would use those very pipe lines in 2010-11 in restoring the fairways to their original dimensions and contours).
And by 1934, Ross believed he had developed a strain of Bermuda grass that could survive cold weather and heavy foot traffic well enough that he built three experimental grass greens on No. 2.
They did well over the 1934-35 season, and he converted all the greens on No. 2 from sand and clay to Bermuda the following year.
The fourth green of Pinehurst No. 2, as it appeared during the 1936 North & South - the same year Pinehurst hosted its first major event, the 1936 PGA Championship. Photo courtesy of the Tufts Archives.
Finally, Ross arrived his current hole configuration in 1935, adding the fourth and fifth holes and abandoning two that ran between the current 10th and 11th on ground now occupied by course No. 4. The fifth hole, incidentally, was originally played as a par 5 at 467 yards until it was changed to a par 4 prior to the 1951 Ryder Cup Matches; that historical precedent is among the reasons the USGA played it as a par 5 again for the 2014 U.S. Open.
"No. 2 has always been a pet of mine," Ross said. "In building these fine new greens, I have been able to carry out many of the changes which I have long visualized but only now have been able to put into practice."
Another key change was sculpting the sandy soil around the new putting surfaces into the swales, humps and hollows Ross knew so well from his hometown course in Dornoch, on the northeast coast of Scotland.
The 6th hole of Pinehurst No. 2 in the mid-1940s.
"This mounding makes possible an infinite variety of nasty short shots that no other form of hazard can call for," Ross said prior to the 1936 PGA. "Competitors whose second shots have wandered a bit will be disturbed by these innocent appearing slopes and by the shot they will have to invent to recover."
It was the perfect confluence of events and the times for Pinehurst to host its first national championship.
"I have actually played No. 2 in my mind, in marvelous figures, a hundred times the last few months while I have waited for sleep to take me," Tommy Armour said prior to the tournament. "It's the kind of course that gets into the blood of an old trooper."
The 1936 PGA was the first time Pinehurst and its No. 2 course had been used by one of golf's key organizations as the venue for a national championship or international competition. In its first 20 years of competition, the PGA Championship had been held mostly at Eastern clubs, with an occasional visit to the Midwest or West Coast, but the organization selected Pinehurst as its first foray into the South for the 1936 event.
Richard Tufts of the Pinehurst founding family noted that architect Donald Ross had taken Pinehurst's original courses, dotted with "cross bunkers, chocolate drops and other strange monsters of the past," into a new world of golf.
"No. 2 is now equipped with all that is most modern to harass and torment the unwary or unskilled," Tufts said.
It's been that way ever since…ever since Donald Ross got mad.