By Alex Podlogar
Usually when a golfer shows up and asks the starter, "What's the course record?" it's meant to be a joke.
Matt Oshrine was serious.
The 2017 Duke graduate has spent the last few months living in Pinehurst as he's prepared for Stage 1 of the Web.com Tour Qualifying School (UPDATE – Matt qualified for the final stage on Friday with the help of a third-round 61). In those months, though, he'd been driving by and watching as Pinehurst's new short course, The Cradle, took shape. Eight days after it opened on Sept. 30, Oshrine got his chance to play it.
And so he asked about the course record.
"Well, I knew The Cradle had just opened, so I figured that's the best time to set one," Oshrine said.
Told the bar had been set at 5-under 22 – The Cradle is a 9-hole par-3 course with holes ranging from 56 to 127 yards – Oshrine knew he had little time, or holes, to waste.
Naturally, that's precisely what he did.
"The first hole is a pretty easy little par-3, but I just didn't hit a very good shot," Oshrine said. "I made a par, but it wasn't a great start."
A birdie on the 2nd hole made for a better feeling, but even with the punch bowl green on the 3rd, Oshrine could only manage a par there. Sitting at 1 under through three holes, breaking 22 didn't seem all that logical.
The Cradle's 4th hole is one of its most dramatic. On the tee, players can see all nine of the course's greens, making for a fun thought about trying a game of HORSE from there one day. Oshrine, though, was comfortable with the shot in front of him – a 54-degree wedge from about 120 yards.
"That's a good number for me, and the pin was on the left side," Oshrine said. "I draw the ball, and it set up well for me. I hit it to about 4 ½ feet."
The next two holes combine to be about 100 yards total, and Oshrine took care of those, too. "Standard little pitches," he said. "There were some tricky pins, but I got them up and down."
Through six holes, Oshrine was now 4 under and knew he had a shot.
One problem.
The 7th was playing tough.
"The pin was on the right side, and that was a tough spot for me," Oshrine said. "But you have to be careful on that shot. If you miss your spot, the ball can end up in the bunker or roll off to the left. There's not a lot of margin for error there."
Oshrine tugged his shot a little, leaving him about 35 feet away for birdie. With no room for a bogey, Oshrine took his 2-putt par and walked to the 8th, where he made another birdie to get him to 5 under.
The 9th may be The Cradle's toughest hole. At 112 yards, it rides the ridge overlooking the clubhouse and is guarded by two bunkers that are the most perilous on the course. The green slopes dramatically from right to left, and the approach needs to be well-placed just to even hold the green.
Before Oshrine played The Cradle, though, he played the new Thistle Dhu, Pinehurst's 18-hole putting course that fronts the clubhouse and sits adjacent to The Cradle. While there, Oshrine could watch groups play the 9th.
"I saw one guy hit what I thought was the perfect shot, but the ball just kept rolling and rolling, and he ended up more than 20 feet away," Oshrine said.
An hour later, Oshrine himself was on the tee, knowing he needed a birdie for the record. He picked his spot.
"I hit it exactly where I wanted to," he said. "I just knew I was going to have a kick-in birdie."
Nope.
The ball finally stopped about 15 feet away.
Didn't matter. Oshrine drilled the putt, and he had the record – 21.
Well, for now.
"I don't think it'll last long," he said. "Twenty will happen. Actually, I think 19 might be doable."
Perhaps.
"That's really the best thing about The Cradle," Oshrine said. "You could play it five days in a row, and a shot that was easy one day might be your toughest the next day. There are a lot of tricky spots out there. It's so much fun."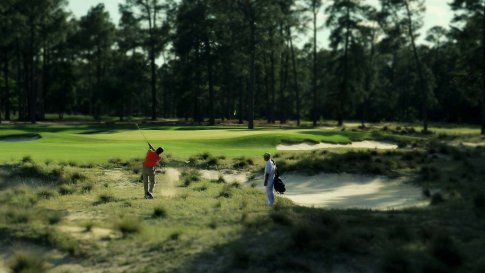 Donald Ross Package
Our most popular year-round golf package includes an extra round of golf.
Resort accommodations for two nights
Three rounds of golf
Overflowing breakfast buffet and dinner daily
Package Details