Golf.com went deep in a lengthy Q&A this week with Sam "Riggs" Bozoian, whom you might just remember made Pinehurst into his second home – or, well, primary home – during a 99-day sabbatical from New York during the height of the Covid crisis there.
It's a fun read and details some of the most interesting days of Riggs' relocation to Pinehurst – the arrival, the Daily 9, the match on No. 2 with PGA Tour player Kevin Kisner, the haircut and of course, the crying – but perhaps one of the best parts is what Riggs said about our short course, The Cradle.
While The Cradle is obviously fun for the experienced player – and even for the person living in Pinehurst for nearly 100 consecutive days – what Riggs had to say about The Cradle and how it nurtured a new golfer's love for the game is what hit home for us the most.
In late April, you said that your girlfriend played her first nine holes, I think at the Cradle. What that was like?
Riggs: At first she started walking with us and maybe just hitting a couple putts. Then she started on the Cradle playing with just a putter for a few rounds and having a good time doing that. And then she started saying, 'Hey, I want to hit like, one of those full-shot things.'
We just played Erin Hills this week. She was able to play 18 holes three days in a row at Erin Hills and have a great time and had several holes where she posted a legitimate 5 or 6. I'm like, 'How are you able to do this? Golf is so hard for me.' And I've been playing my whole life and I've been really playing for like fifteen years, trying to get better.
There's so much little stuff learning the game from scratch that's fascinating, like how you're supposed to align your shoulders with the slope. How do you know if nobody tells you? And then witnessing the satisfaction when she hits a good shot, she just throws her arms up in the air. It's so pure.
And the Cradle! It's the best place in the world. I think if we weren't at Pinehurst, she never would have learned golf. But how can you possibly have a more inviting, accepting and playable scenario than the Cradle? It's like 700 yards, it's nine holes, it's 50-yard holes, you can putt it if you want, she can go out and make a birdie after having played for the first time of her life. There's music in the speakers, there's a bar out on the 3rd hole, she's like, 'This isn't as intimidating as I thought. This is great. This is just like a fun time playing a game,' which is really what golf is supposed to be.
Thanks, Riggs. We'll see you again soon.
Just left @PinehurstResort after 99 days. My friend @TomPashleyNC surprised me with this.

I had no chance out there 😢 pic.twitter.com/YbjbRdyubl

— Riggs (@RiggsBarstool) June 24, 2020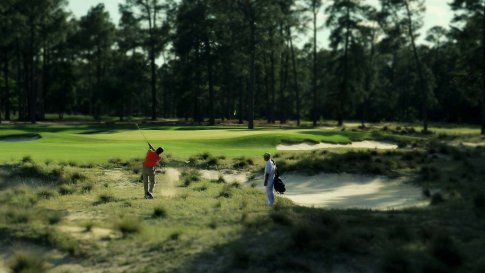 Donald Ross Package
Our most popular year-round golf package includes an extra round of golf.
Resort accommodations for two nights
Three rounds of golf
Overflowing breakfast buffet and dinner daily
Package Details