Donald Ross believed in providing golfers with strategic choices, and Pinehurst No. 2 was intended to epitomize that philosophy. In March 2011, No. 2 reopened following a year-long restoration project designed to restore the course's natural and historic character, and the strategic options that were the centerpiece of Ross's vision. The $2.5 million project was conducted by Bill Coore and Ben Crenshaw and included work on every hole. Features of the project include:
Increase fairway widths Fairways were widened by as much as 50%, offering more strategic options in playing holes from tee to green.
Removal of rough All rough was eliminated, establishing two heights of grass: greens and everything else.
Reintroduction of natural areas 35 acres of irrigated turf were removed, restoring natural areas of sand, wire grass, pine straw and a variety of native grasses.
Turf maintenance 650 irrigation heads were eliminated, and the centerline irrigation was restored.
Wiregrass More than 200,000 plants were added
Overseeding Eliminated during the winter months, allowing for firm, fast conditions throughout the year
Increased length Thirteen new tees were added to the championship course, increasing the total championship length by more than 300 yards, to 7,565 from 7,214.
Bunker modifications Several bunkers were restored, eliminated or reshaped based on aerial images of the course from the 1940s, and bunkers were edged to create rustic appearance
Greens Only two (15 and 17) were modified slightly to increase hole locations.
Cart paths Relocated and concrete removed.
FOLLOWING ARE DETAILED, HOLE-BY-HOLE MODIFICATIONS:
Par 4
Yardage: 402
New tee: No
There are more options off the tee, and the removal of turf on the right, left and behind the green brings more natural areas into play. Specific changes include:
Added mound to the right of the fairway, about 300 yards from the tee
Created visual backdrop by adding a sandy wiregrass mound behind the green and left of the second tee
Removed turf behind the green to bring sand, pine needles and wiregrass into play
Par 4
Yardage: 507
New tee: Yes
The second hole remains one of the most difficult on the course. It was one of four par-4s that could play over 500 yards from the back tee during the U.S. Open.
New tee lengthened hole by about 35 yards
Removed turf on the right side to expose mounds and low areas that accumulate loose sand
Restored bunker in front of fairway
Expanded fourth fairway bunker on the left into the drive zone
Bunkers were elevated in order to be viewable from the tee
Par 4
Yardage: 387/329
New tee: Yes
The third hole could be set up as a drivable par-4 during the championships. With turf removed from behind the green, approach shots that go over could roll down the hill considerably.
Added a championship tee at about 250 yards that was used to make the hole drivable during the U.S. Women's Open.
The back tee, at about 390 yards, was not built during previous U.S. Opens, but it was used during the U.S. Amateur.
Par 4
Yardage: 529 – 565
New tee: Yes
Changed from a par-5 to a par-4 and will play about 530 yards for the men and about 450 yards for the women.
Two new tees left of the previous tee restore original line of play, which moves from right to left. The new back tee is on the backside of the sixth tee.
Added two fairway bunkers, which existed in the 1940s, in the drive zone on the right, and one on the left about 170 yards from the green
Expanded the left greenside bunker so that it comes more into play on the approach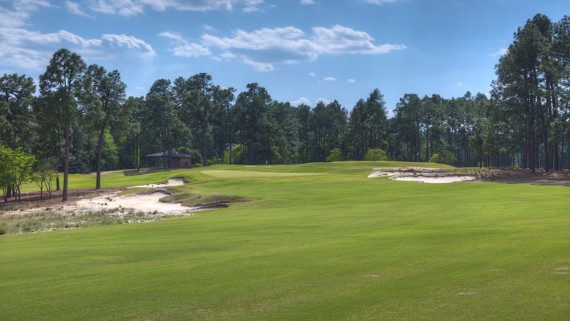 Par 5
Yardage: 576 – 472
New tee: Yes
Converted to a par-5, the way it played during the 1936 PGA Championship.
Built four new tees, which will allow the hole to play as long as 585 yards
Restored the fairway bunker at the start and left of fairway. From the back tee, it is about 290 to 300 yards to carry the fairway bunker.
Added sandy wiregrass collection area left of green.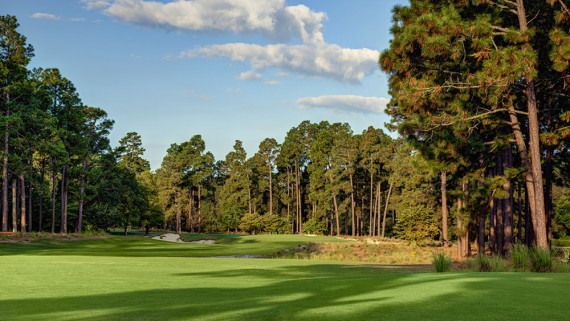 Par 3
Yardage: 219
New tee: No
The sixth had the fewest changes on the course.
Expanded left greenside bunker
Repositioned red tee to the left
Par 4
Yardage: 424
New tee: Yes
The seventh may have had the most significant amount of work of any hole with an expanded fairway, new back tee and sandy rough all down the right side. It will be about a 280- to 300-yard carry the dogleg right.
New championship tee sits behind the sixth green on the other side of Muster Branch Road (the existing blue and white tee lowered)
Right fairway bunkers complex shifted right
Restored approach bunker left of fairway 60 yards from green
Left side of fairway native area expanded to include hollows and wiregrass; large mounds removed
Turf removed behind green; mounds created behind green to collect shots hit over
Par 4
Yardage: 502/486 option
New tee: Yes
A par-5 for regular play, this will continue to play as a par-4 during the championship. With firm and fast conditions, balls will continue to feed from right to left, bringing the sandy wiregrass into play left of the fairway.
A new tee was added that can increase length to about 500 yards. It played as 485 yards in '05.
Added right fairway bunker about 270 yards from the green and added approach bunker on left about 75 yards from green
Shifted right greenside bunker farther right away from green
Added wiregrass mounds left of fairway in the drive zone
Par 3
Yardage: 191/186 option
New tee: No
This hole may represent the most visual of the restoration's changes, although the hole will play similarly. Sand and wiregrass cover most of the area from tee to green.
Restored greenside bunkering to match appearance in 30's
Eliminated pot bunker at rear of green and replaced with turf mound
Par 5
Yardage: 617
New tee: Yes
The longest hole on the course has been extended and will have sandy and wiregrass in play throughout the hole.
Extended back tee about 10 yards, bringing the maximum length to about 617
Removed bunker on top of mound at right landing zone and added wiregrass
Restored left fairway bunker about 200 yards from green
Sand and wiregrass has been brought in to make the landing area very narrow about 50 yards off the tee. There is ample room in the 125- to 150-yard area for those laying up
Brought sandy wiregrass area closer to back of green, so that it will come into play for balls rolling off the green.
Shifted red tee to the right
Par 4
Yardage: 483
New tee: Yes
Ben Hogan called the 11th one of his favorite par-4s, and the hole has been restored to the way it looked and played in his era.
A new back tee has added about eight yards, and the tee was slightly raised by about 3 to 4 six feet.
Shifted white, green and red tees to the right
Lowered area between blue tee and start of fairway to improve visibility of drive zone from back tees
Added left fairway mound about 165 yards from green
Par 4
Yardage: 484
New tee: Yes
This hole has been lengthened as much as any other on the course, and sand and wiregrass play a strategic role off the tee and around the green.
A new tee, which sits near the No. 4 course, has added about 35 yards
Added wiregrass mound on left side of fairway that is about 300 yards off the tee and 135 yards from green
Brought sandy wiregrass area closer to back of green
Par 4
Yardage: 385
New tee: No
The 13th often plays as one of the more exciting holes on the course. With the back tee, it will demand precise yardages to stay in the fairway. It also may be played as a drivable par-4, bringing sand and wiregrass into play on the left side of the green.
Added right fairway bunker about 90 from green
Eliminated small bunker left of green and large bunker
Expanded left greenside bunker along the approach
Significant amount of turf removed from the left side of the fairway up to the green, bringing sand and wiregrass into play
Par 4
Yardage: 473
New tee: Yes
The 14th, which plays with the prevailing wind, will play similar to how it has previously, with sand and wiregrass guarding the fairway and green instead of Bermuda grass.
New championship tee added about five yards.
Restored two right fairway bunkers about 225 yards from green. Both were in original photos of the course.
Par 3
Yardage: 202
New tee: No
The hole looks significantly different from the tee due to the removal of trees behind the green. One of only two greens that were slightly modified, it has significantly more hole locations.
Added about 600 square feet of pinnable hole locations
Recaptured middle right hole location by bringing green closer to right greenside bunker. That bunker now runs right up to the green.
Removed trees behind green to open sightline into the fairway bunker on No. 16
Enlarged blue and white teeing ground
Added sandy wiregrass area behind green
Par 4
Yardage: 528
New tee: Yes
A par-5 for regular play, this plays as No. 2's longest par-4 during championships.
Extended men's championship tee, adding about 36 yards
Brought in the left side of the fairway about 300 yards off the tee and added some sandy mounts
Added right fairway bunker about 300 yards from tee
Added wiregrass mounds left of fairway
Connected and enlarged right approach bunkers
Bunker at rear of green brought closer to back edge of green
Par 3
Yardage: 205
New tee: Yes
The 17th has been lengthened and has more hole locations than in previous championships.
New back tee has added about 15 yards, bringing the total length to about 205 yards
Recaptured front right hole location by softening contour of green
Removed one of three right greenside bunkers
Par 4
Yardage: 451
New tee: Yes
Ross' masterpiece concludes with a slight dogleg right that now plays around sand and wiregrass. Where Payne Stewart drove his tee shot in the final round of the '99 Open would now land in sand and wiregrass.
A new championship tee added about nine yards, increasing the overall length to about 450
Added mounds and wiregrass left of fairway in drive zone
Consolidated two front right greenside bunkers into one
Sandy mounds and sandscape extend on the other side of the right fairway bunker, which can come into play for those missing right or trying to drive over the bunker
2014 U.S. Open – 7,565; U.S. Women's Open – 6,649
2005 U.S. Open – 7,214
1999 U.S. Open – 7,175